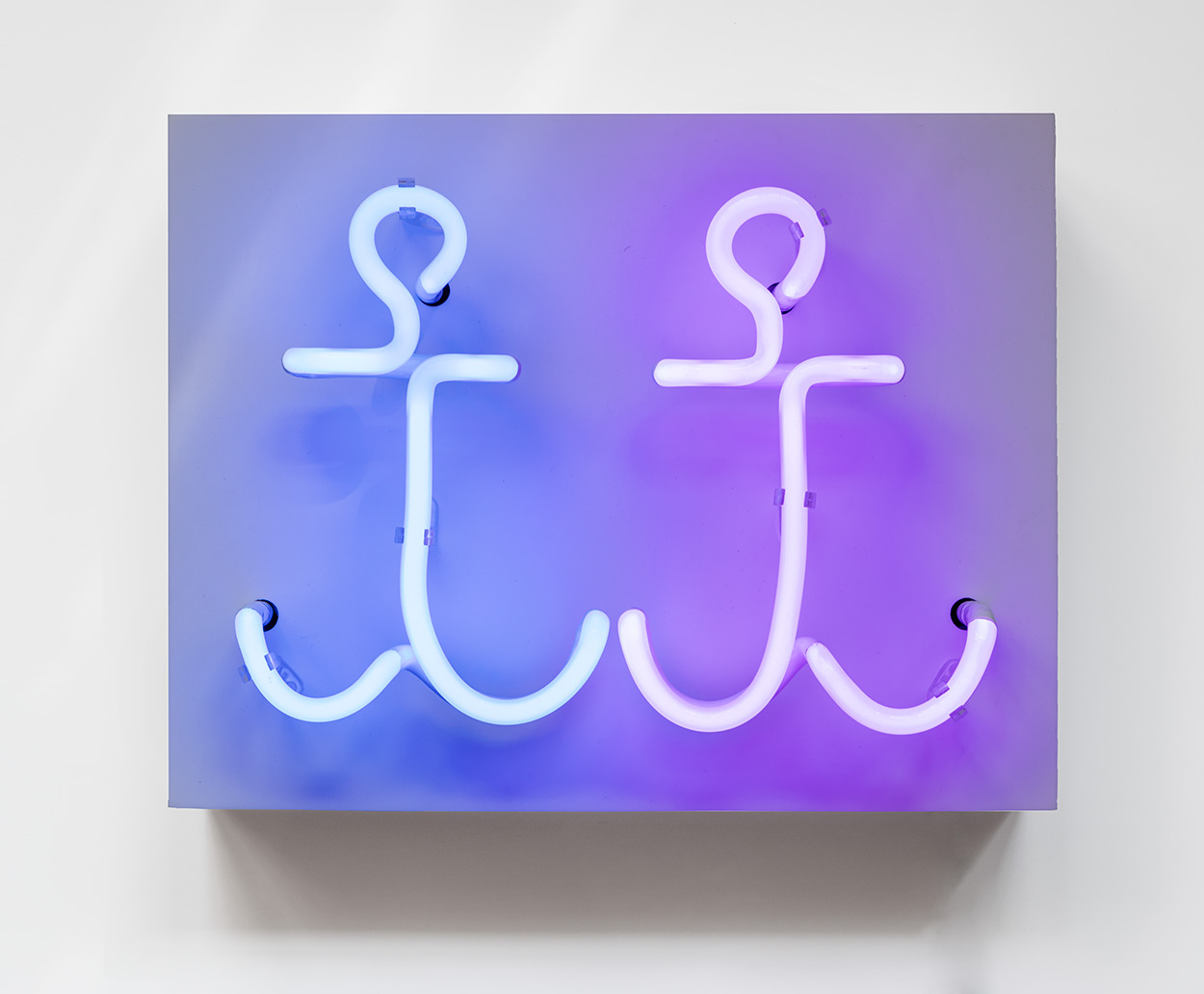 Casey House is deeply grateful to Mark Clintberg for this very generous gift.
SPONSORED BY URBACON


Mark Clintberg
Our Arrangement (2 Anchors, Variants)
2015
Neon tubing, transformer, acrylic
12" x 14"
Limited edition of 25 (25 colour variants)
Courtesy of: Pierre-François Ouellette art contemporain
Donated by: The Artist
Price of each: $1,275
25 colour variations will be available to the public for purchase beginning September 15th. Members of the Patrons' Circle receive advance purchasing privileges starting September 8th.
To learn more please call 416-962-4040 ext 238.
Casey House is thrilled to offer Our Arrangement (2 Anchors, Variants) by Mark Clintberg, as this year's Gallery of Patrons Limited Edition.
Artists' Statement
Our Arrangement (2 Anchors, Variants) depicts two figures that resemble anchors. Each of the twenty-five pieces in the edition features a unique combination of coloured neon tubing. Their proximity as well as their quantity is used to represent a series of arrangements or agreements between two or more parties. This piece is part of a larger series of works in which each combination of figures represents a different short- or long-term relational arrangement. This series features many quantities of figures interlocking in different patterns, signifying agreements made between one, two, three, four or more individuals. In this case, the piece will signify both the arrangement between the artist and the purchaser, who agrees to be the steward of this artwork, and the artist and Casey House. The details of these arrangements are negotiable.
Artist Biography
Mark Clintberg is an artist who works in the field of art history. He completed his Ph.D. at Concordia University in 2013, and he is an Assistant Professor, Contemporary Visual Art History and Theory in the School of Critical and Creative Studies at the Alberta College of Art + Design. His work explores the materiality of text and the public display of subjective feeling. Collections featuring his work include the National Gallery of Canada, the Edmonton Arts Council, and the Alberta Foundation for the Arts. His work has recently been shown at The Rooms, Doris McCarthy Gallery, Illingworth Kerr Gallery, Dunlop Art Gallery, Western Front, and the Fogo Island Inn. He has upcoming solo projects at Artspace and Truck Gallery. In 2013 he was short listed for the Sobey Art Award. He is represented by Pierre-François Ouellette art contemporain.